Argghh, the bloody Summer. Have I mentioned how much I hate it? No? Well let me tell you, it drives me mad. Everything about me functions at half speed in July and August and I find it impossible to motivate myself. I wonder if this is a universal experience, bourne from the evolution of children switching off for the annual school holiday?
Anyone? Anyone?
Bueller? Or is it just me and I have Seasonal Affective Disorder in reverse? No idea. Anyhoo - yes, I really did type that non-word - in order to be motivated to wake up, write enough and generally function at a basic level, I am constantly bribing myself. A thousand
more words before the next cup of tea
. Finish this chapter then you can have a wee. That kind of thing. The good news is, I know how it works. I will be hot and grumpy until August 31st and then I will be miraculously better. But until then I need to manipulate myself into setting to and cracking on. Below is an insight into my current bribes. These are the little shining lights at the end of that day's particular tunnel. Once I've written enough (or on weekends, simply got up and attended to personal hygiene) I can partake in their loveliness. By dangling these carrots throughout the next couple of months I can keep on track and keep mostly sane. So - sing it with me - these are a few of my favourite things.🎶
Ignore the subtitles, ignore
the actors, check out the open
stairs with the candles. I want.
Dicte
A casual mention on Twitter this week from Marian Keyes, and I was in. Another Scandi crime drama to sink my teeth into - Dicte is about a reporter called - can you believe it? - Dicte, who investigates crimes and gets under the skin of the local police guy. I'll be honest. If this were set in Ipswich or Wolverhampton or Cirencester, I'd be less arsed. But it is set in Denmark you see, (Aarhus to be exact) so it immediately makes everything feel better. I've watched most of series one (on All Four) with one eye on the action and the other on sourcing features of Dicte's open-plan home. So far this has resulted in me buying a White Linen candle from Tesco and looking at how I can kick the wood out of the back of each stair. It's probably not going to happen, but still. It's ace. It's Danish. It reminds me of Borgen and The Bridge because of all the Danishness. It's something to look forward to when I'm done for the day.
The fruit, veg and wine diet.
Things That Make You Go Mmmm
I have talked before about how much I despair of summer food. Salad is no match for mashed potato and gravy, no matter what Pinterest inspired novelties you employ. I love cooking and I love eating what I make. Every meal I consume has to be worth salivating over. If I've got a limited number of Weight Watcher points to use, I'm not going to waste them on anything that doesn't make me say mmmmmmmmm after every mouthful.* With that in mind, I jolly up my evenings with excellent food selections. The photo shows Saturday's tea,** the planning of which filled many an evening in the preceding week. When you're creating extravaganzas like this, the mood is high.
*I mostly do this in my head.
** Also Sunday's, as well as a whole weekend's worth of open-fridge nibbling whilst forgetting the reason I came into the kitchen in the first place.
You can tell I am enjoying
it by this photo that
isn't staged at all.
Alan Partridge
Alan Partridge appears to be timeless. I was at school when I watched the Day Today, in Sixth Form for Knowing Me Knowing You, and in my twenties for I'm Alan Partridge. When Mid Morning Matters kicked off I was in my thirties, along with when I read his first book, I, Partridge: We Need to Talk About Alan. Now I'm reading his new book, Nomad and I'm within sniffing distance of being forty. There's not much comedic popular culture in my life that has lasted so long with the same impact. Nomad is hilarious as you'd expect. With my current seasonal funk I can't concentrate on long, involved plots and heavy topics. I need humour done well. This is that.
Brenda on a windy moor
is marvellous telly.
Vera
This has been on for years but I've only just got on to its marvellousness. Brenda Blethyn is very watchable.* I don't know what that means but it's the kind of thing people say. I do love me a gritty murder mystery. Anything that used to be classed as the ITV Sunday evening slot but is now played 24/7 on channels like Encore and ITV3, is right up my street. I've devoured all the episodes of Vera that I've found on Catch Up over the past few weeks. Basically Northumberland seems as moody and brooding as all my favourite Nordic Noir telly. And Vera Stanhope is a cracking character. Knowing there's a new episode downloaded on the planner is a good feeling.
*I wrote that sentence yesterday. Today I am looking for links to add to the post and I found this review (linked above) with the exact same sentence. 1) I didn't plagiarise it. 2) Brenda Blethyn must be very watchable for realsies.
Sometimes buying a travel book is just
as good as going somewhere.
Iceland
This falls into the category of Things That Look Brill That I Might Not End Up Doing. A few weeks ago I bought myself a Reykjavik travel book. Then I saw online there was a walking food tour stopping at six different food outlets! Then - and prepare yourself for a punctuation ejaculation - there was a walking beer tour at night!!!??#@! (Translation: high excitement). There are current practicalities that make this hard to book right now (time, money blah blah blah) but reading about it and knowing it is there for when I am able to go, is thrilling. Plus, it will be cold and I will wear jumpers!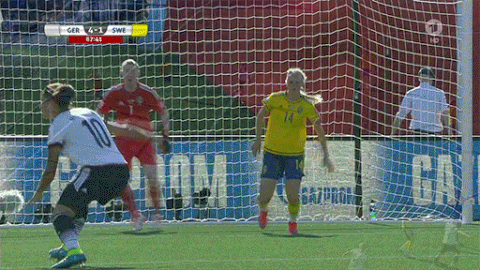 Germany score against Sweden
in the 2015 World Cup quarter finals
Women's Euros
Two years ago I decided I should watch the Women's World Cup because of feminism and sisterhood. Also the BBC were showing it and I wanted to support their decision to broadcast more women's sport. With all these noble intentions it was quite the shock when I got properly hooked. Matches started late and finished in the early hours but I didn't care. I decided I found it far more enjoyable than the men's game and it gave me the kick start to seek out a local team to support. (Both Liverpool and Everton play at a rugby league stadium mere minutes from my home. It's easy as.) This time I'm actively looking forward to the Lionesses' big tournament. The Euros started yesterday, but England's first match is Wed 19th July. It's not about feminism or sisterhood anymore. It's about a fab national team with more than a decent crack at doing well. Plus, the Netherlands' start times are a lot more user friendly. Channel 4 is broadcasting this time - the England and Scotland matches at least. The rest is on Eurosport. The wall chart is here - print it out and get involved!
Aforementioned Tesco
candle: singlehandedly
hygge-ing up my life
till Autumn.
So there you go. These are the joys I am filling my days with until my mood lifts and I cool down. When September comes everything will be OK. The nights will start a little earlier. The need for watching a film under a blanket will be far more pressing. There will be gravy once more. It feels like an unimaginable Utopia right now, but one day it will come. One day soon, if we all believe hard enough.
Have a lovely week, folks.
Save
Save
Save
Save
Save
Save